BlueWillow's NanoBio™ technology platform uses proprietary nano-scale formulatons to enable numerous topical anti-infective products as well as a broad range of drug delivery applications.  The technology employs high-energy, oil-in-water emulsions.  As shown below, the resulting products are composed of droplets roughly 200nm in size that use a physical process to disrupt the outer lipid membrane of viruses, bacteria and fungi: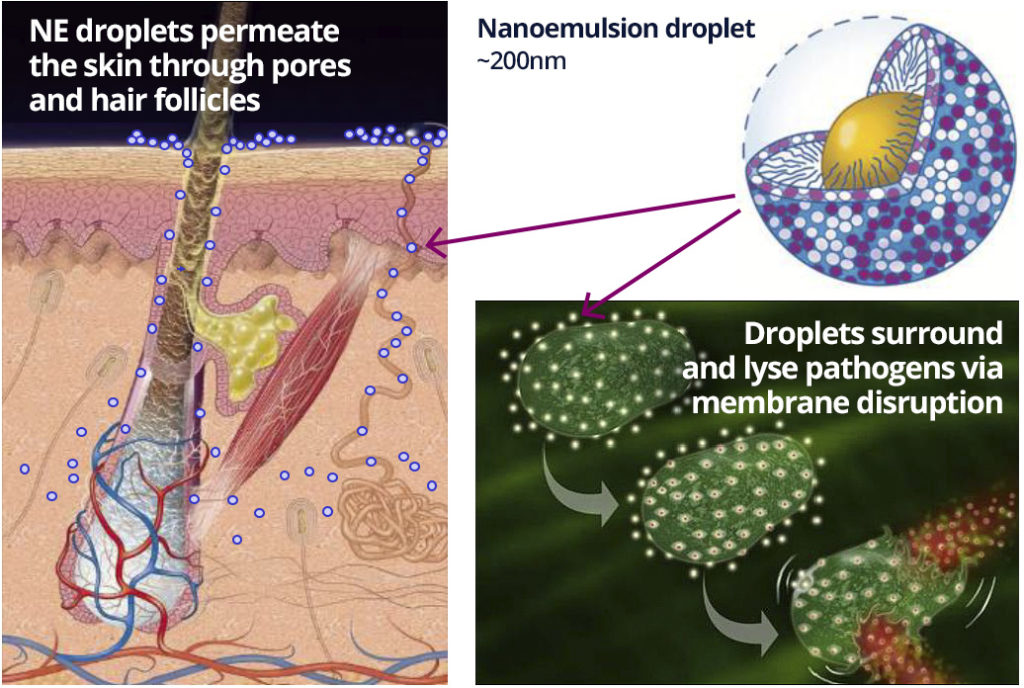 The droplets traverse the pores and hair follicles of the skin and mucosal membranes, without disrupting normal tissues. These droplets permeate to the epidermis and dermis where they interact with and disrupt organisms at the site of an infection.  The unique attributes of NanoBio-based products include:
Topical application via permeation through pores and hair follicles;
Broad antimicrobial activity vs. bacteria, viruses, fungi and spores;
Limited potential for drug resistance, given the technology's unique physical MOA;
Composition of soft nanodroplets, which are biodegradable and environmentally friendly;
Proven safety — no drug-related SAE's observed in 10 clinical studies completed to date;
Demonstrated stability of 3+ years;
Low COGS, with manufacturing scaled to commercial batch sizes;
Ability to incorporate, deliver and enhance other active agents;
Extensive intellectual property, and the ability to extend the patent life of other molecules.
NanoBio products have shown promise as potential topical applications for wounds, burns, acne, atopic dermatitis, herpes labialis, onychomycosis, molluscum contagiosum, tinea capitis and other conditions.  Given BlueWillow's internal operations are now primarily focused on advancing selected intranasal vaccine candidates, the company is collaborating with several partners to develop selected topical NanoBio therapies.
Publications
Scientific publications describing the extensive research conducted using NanoBio-based applications are listed below:
"Screening of Nanoemulsion Formulations and Identification of NB-201 as an Effective Topical Antimicrobial for Staphylococcus aureus in a Mouse Model of Infected Wounds". Military Medicine. 2016, May: 181, 5S:259-264
"Nanoemulsion Therapy for Burn Wounds Is Effective as a Topical Antimicrobial Against Gram-Negative and Gram-Positive Bacteria". Burn Care Res. 2016, March /April: 37(2); 104-114
"Treatment With a Novel Topical Nanoemulsion (NB-001) Speeds Time to Healing of Recurrent Cold Sores". Drugs Dermatol. 2012 Aug; 11(8):970-7
"In Vitro Antibacterial Activity of NB-003 against Propionibacterium acnes". Antimicrobial Agents And Chemotherapy, Sept. 2011,Vol. 55, No. 9, p. 4211–4217
"Topical Nanoemulsion Therapy Reduces Bacterial Wound Infection And Inflammation After Burn Injury". Surgery. 2010
"NB-002, A Novel Nanoemulsion With Broad Antifungal Activity Against Dermatophytes, Other Filamentous Fungi, And Candida Albicans". Antimicrobial Agents And Chemotherapy, Aug. 2009, Vol. 53, No. 8, p. 3273–3279
"In Vitro Activities of a Novel Nanoemulsion against Burkholderia and Other Multidrug-Resistant Cystic Fibrosis-Associated Bacterial Species". Antimicrobial Agents And Chemotherapy, Jan. 2009, Vol. 53, No. 1, p. 249–255
"The Fungicidal Activity Of Novel Nanoemulsion (X8W60PC) Against Clinically Important Yeast And Filamentous Fungi". Mycopathologia 155: 195–201, 2001
"A Novel Surfactant Nanoemulsion With A Unique Non-Irritant Topical Antimicrobial Activity Against Bacteria, Enveloped Viruses And Fungi". Microbiol. Res. (200I) 156, I-7
"Inactivation Of Ebola Virus With A Surfactant Nanoemulsion". Acta Tropica 87 (2003) 315/320
"Antimicrobial Mechanism Of Action Of Surfactant Lipid Preparations In Enteric Gram-Negative Bacilli". Journal of Applied Microbiology 2000, 89, 397-403
"Prevention of Murine Influenza A Virus Pneumonitis by Surfactant Nano-emulsions". Antiviral Chemistry & Chemotherapy, 2000, 11:41-49
"A Novel Surfactant Nanoemulsion with Broad-Spectrum Sporicidal Activity Against Bacillus Species". The Journal of Infectious Diseases, 1999, 180:1939–49