NanoBio® Protect Nasal Antiseptic Solution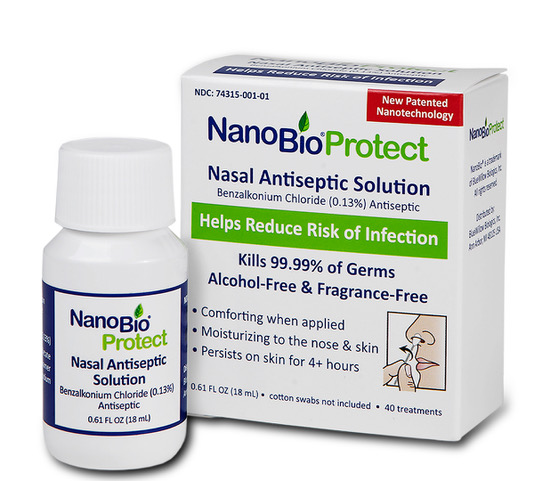 NanoBio® Protect is an alcohol-free nasal antiseptic solution that can be used to help reduce germs on skin in and around the nose that can cause infections. It is non-irritating, fragrance-free and leaves no residue after application.
NanoBio® Protect is an FDA Over-the-Counter skin antiseptic that incorporates the active ingredient benzalkonium chloride (BZK), which is a well-known skin antiseptic that has been used in humans since the 1940's. NanoBio® Protect is similar in concept to a hand sanitizer but is designed for use on the skin inside and around the nose where germs frequently enter the body. The product is easy to apply with a standard cotton swab.
The unique effectiveness of NanoBio® Protect is derived from BlueWillow's patented nanotechnology. NanoBio® Protect places the BZK antiseptic – on the surface of nano-droplets, which results in at least four key advantages:
The nano-droplets present the BZK in such a way to enhance its ability to kill germs,
The droplets persist on skin for 4 or more hours, enabling long-lasting effectiveness,
The droplets significantly hydrate skin to avoid dryness and cracking that can allow germs in.
And lastly, when bound to nano-droplets, BZK is non-irritating to the skin.
Purchases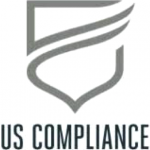 US Compliance worked with BlueWillow Biologics to make the patented NanoBio® Protect product available to its team members as an additional protective measure for working in the field and the office. Leveraging its extensive client base, US Compliance also secured dedicated product support from BlueWillow, and the following volume discounts on individual case orders of NanoBio® Protect. Each case contains 36 bottles. To place an order, complete the form below. Once your form is completed, BlueWillow will have the product shipped and will email you an invoice. Should you have any questions or comments regarding the product or your order, please include them in the space provided at the bottom of this form.
Discount Schedule
1–50 cases

5% discount

51–100 cases

8% discount

101–250 cases

12% discount

251–500 cases

15% discount

501–1,000 cases

18% discount

1,001+ cases

20% discount